Convergence, Google, IFC and Mitsui back CSquared with $100mln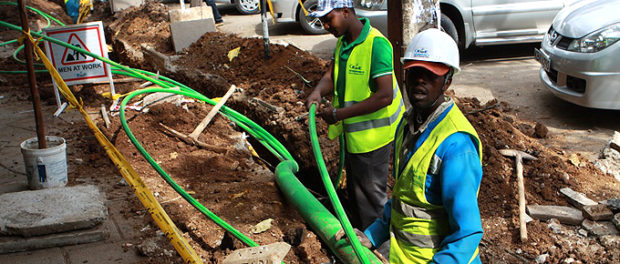 Convergence Partners, the Africa-focused private equity ICT investor, the IFC, Mitsui & Co and Google are teaming up to invest up to $100 million in CSquared, a broadband infrastructure company building wholesale metro fibre optic networks on the continent. Additional terms of the deal, which is subject to customary closing conditions, were not disclosed.
CSquared, which emerged in 2013 through the combination of several of Google's Project Link initiatives to build high-speed, world-class fibreoptic networks in Africa's cities, has already laid over 800km of fibre in Kampala and Entebbe and more than 840 km of fibre in the Ghanaian cities of Accra, Tema and Kumasi. These networks are now used by over 25 ISPs and MNOs offering broadband services and 4G data to end users, and more than 1,200 tower and commercial buildings are connected directly to CSquared's fibre infrastructure.
"We believe that together under CSquared, we can get more done to roll-out and operate affordable, high-speed, and reliable infrastructure to expand internet access in Africa," Marian Croak, Vice President at Google said. "Project Link is demonstrating the impact of shared wholesale infrastructure, and we're excited to see CSquared bring more infrastructure to more service providers and their customers."
By combining capital and technical knowhow to deploy and operate the existing and planned networks, it's hoped that costs will be lowered and the price of services to the end consumer will be minimized, kickstarting economic activity in return. Laying fibre optic cable is expensive, ranging from $15,000 to $30,000 per kilometre. According to the IFC, who are investing in the deal on behalf of the DFI's Digital Infrastructure Initiative, Africa needs a least another 500,000 kilometres.