Nigeria's Akinwunmi Adesina elected to top job at AfDB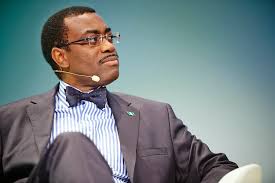 Having won approximately 60% of the votes, Nigeria's agriculture minister was elected to be the next leader of the African Development Bank at the institution's annual meetings held in Abidjan, Cote d'Ivoire last week. He beat out 7 other high-profile candidates, including the finance ministers of Chad and Ethiopia.
Adesina has been Nigeria's Agriculture Minister since 2011. Since then, according to the report in The Guardian announcing his election, agriculture production in Nigeria has increased by 22 million tonnes under his stewardship, with imports to the country dropping by more than 30%, a renaissance in the sector which has created 3 million jobs. A development economist with a doctorate from Purdue University in the United States, Adesina is credited with encouraging farmers to refocus their efforts to grow more productive crops and reorganize a convoluted and corruption-ridden fertilizer program.
He takes over from the institution's current President, Donald Kaberuka, who steps down at the end of August after serving two 5-year terms in the role. The African Development Bank is one of the continent's largest lending institutions, making loans and grants totaling $3.16 billion in 2013 to infrastructure projects across Africa. In recent years, there has been a huge increase in funding from non-traditional lenders, most notably China, and several African countries have issued sovereign bonds to help finance their countries' infrastructure projects.
The AfDB estimates that the continent's infrastructure funding gap runs as much as $90 billion a year, a figure that dwarf's the bank's lending capacity, which actively uses its AAA credit rating to attract private financing for the projects. Adesina is expected to continue to push for infrastructure development and integration, at both local and regional levels, to boost the continent's competitiveness and encourage the private sector to generate jobs and wealth.