OPIC backs Kipeto Wind Power Project with $233mln debt package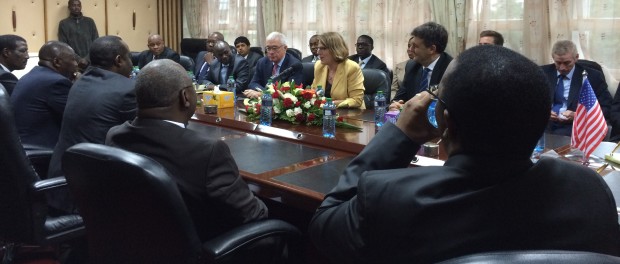 Travelling with President Obama in Kenya last week, Elizabeth Littlefield, the President & CEO of the Overseas Private Investment Corporation (OPIC), the U.S. Government's development finance institution, signed a letter committing $233 million in debt financing to support the construction and operation of the Kipeto Wind Power Project in Kajiado, Kenya. The project is being developed in partnership with African Infrastructure Investment Managers (AIIM), the International Finance Corporation (IFC) and Craftskills Wind Energy International.
The 100-megawatt, grid-connected wind power facility located south of Nairobi is situated in an area with strong, consistent wind currents. Once complete, it will be one of the first utility-scale wind projects to come online in Kenya, providing cleaner and more reliable energy to Kenya's national grid, helping to further bolster the country's growing economy.
The commitment also demonstrates OPIC's continuing role in fulfilling President Obama's Power Africa initiative which aims to add more than 30,000 megawatts of cleaner, more efficient electricity generation capacity as well as increased power access with 60 million new connections throughout sub-Saharan Africa.
"Kipeto is a transformative project for many reasons, principally for the clean and reliable energy it will supply to Kenyan citizens," said Elizabeth Littlefield. "It will be one of Kenya's first utility-scale wind projects and can contribute more than 20 percent of residential power consumption at current usage rates. Our commitment to Kipeto is also a significant step in OPIC's pledge to President Obama's Power Africa Initiative.  OPIC is proud to support the Kipeto project and its role in advancing Kenya's economic prosperity."