Amethis and National Bank acquire NSIA Participations stake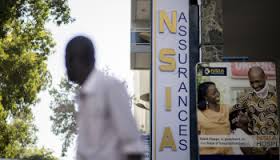 Amethis Finance and National Bank of Canada have acquired a minority stake in NSIA Participations, the Abidjan-headquartered Financial Group.  The 26.24% stake was sold to the consortium by ECP's Africa Fund III PCC.  Financial terms of the deal were not disclosed.
The transaction is Amethis's fifth deal in the sub-Saharan Africa's financial services sector and a good example of their strategy of helping to forge mutually beneficial partnerships and relationships between leading international financial institutions and their African counterparts. According to Laureen Kouassi-Olssen, an Investment Director and Head of Financial Institutions at Amethis, "This transaction is a great opportunity for Amethis to play an instrumental role in the setting-up of a long-term partnership between two leading financial institutions, thanks to its expertise in the sub-Saharan financial sector, and also to foster NSIA's ambitions to become the leading player in the banking and insurance landscape in sub-Saharan Africa."
NSIA is the leading insurance company in Francophone Africa, and also owner of NSIA Bank Cote d'Ivoire, the country's third largest, and NSIA Bank Guinee, which was launched in 2010. The group sells a wide range of financial services products through an extensive network of life and non-life insurance companies, insurance offices, banks and banking retail offices in twelve Central and West African countries.
The deal allows NSIA access to significant financial resources and banking expertise to help it develop its banking business and grow by taking advantage of the opportunities and synergies offered by the bancassurance distribution model.
The transaction is subject to regulatory and agency approvals, including the CIMA, (the Inter African Conference for the Insurance Market).