Léautier steps down from AfDB role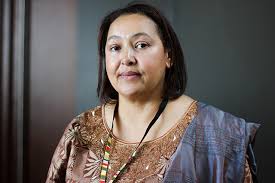 Frannie Léautier is stepping down from her role as Senior Vice President at the African Development Bank due to family reasons. She joined the development finance institution in March last year.
"We will miss Frannie at the Bank," said Akinwumi Adesina, the Bank's President in the statement announcing her decision. "I highly commend her strong dedication and commitment to helping drive institutional reforms at the Bank."
Well-respected in development circles, Léautier's career includes significant periods in senior roles at the World Bank Group, as well as appointments at leading academic institutions, membership of the Boards of several organizations as well as and roles at private sector organizations. Prior to joining the African Development bank, she co-founded Mkoba Private Equity, a planned $200 million fund based in her native Tanzania.
Charles Boamah, the Bank's current Vice President for Finance, is stepping into the Senior Vice President role.  Adesina welcomed his appointment, saying "This is a seamless transition. Charles Boamah brings over 25 years of development finance experience and deep knowledge of the Bank."