Sahel Capital backs Crest Agro in undisclosed deal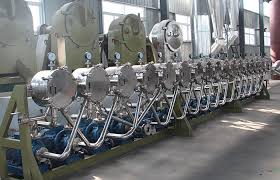 Making its fourth investment on behalf of the Fund for Agriculture Finance in Nigeria or FAFIN, Sahel Capital is teaming up with CardinalStone Capital Advisers to acquire an undisclosed stake in Crest Agro Products, an integrated cassava processor. The capital will be used to support the establishment of the company's starch processing facility as well as help expand its farming activities.
Crest Agro was founded in 2013, and has ambitions to become the leading producer of food grade cassava starch in Nigeria and the broader West African region. The company has 13,000 hectares of land and an outgrower scheme in place that has reached over 400 smallholder farmers, positioning the firm well to meet the raw material needs of its processing facility which is due to come on stream by the end of the year.
"The investment in the cassava sector speaks directly to two pillars of FAFIN's investment strategy: import substitution and smallholder farmer impact, and after a thorough analysis of the opportunities in the sector, we decided to invest in Crest Agro," said Mezuo Nwuneli, Sahel's Managing Partner who led the investment for FAFIN. "Crest Agro has consciously set out to address the structural challenges limiting players in the sector, and we were particularly happy with the quality of the team and the level of execution ability that they bring to the table."
As part of the deal, Nwuneli will take a seat on Crest Agro's board. Joining him will be Olaniyi Oladeho, an Operating Partner with Sahel as well as Femi Ogunjimi and Yomi Jemibewon, both Partners at CardinalStone.
FAFIN, which was launched in 2014, is currently in fundraising mode, targeting $75 million for Agribusiness deals in the region.   Since then, the fund has invested in three agribusinesses in Nigeria–L&Z Integrated Farms, an integrated dairy, Diamond Pearls Agro Allied, a producer of edible oils and, most recently, Dayntee Farms, a commercial poultry farm located in the West African country's Kwara State.
Ikeyi & Arifyan, a law firm, and Environmental Accord, an environmental consultancy, advised Sahel Capital for the transaction. Banwo & Ighodalo provided Crest Agro and CaridnalStone with legal advisory services for the deal.